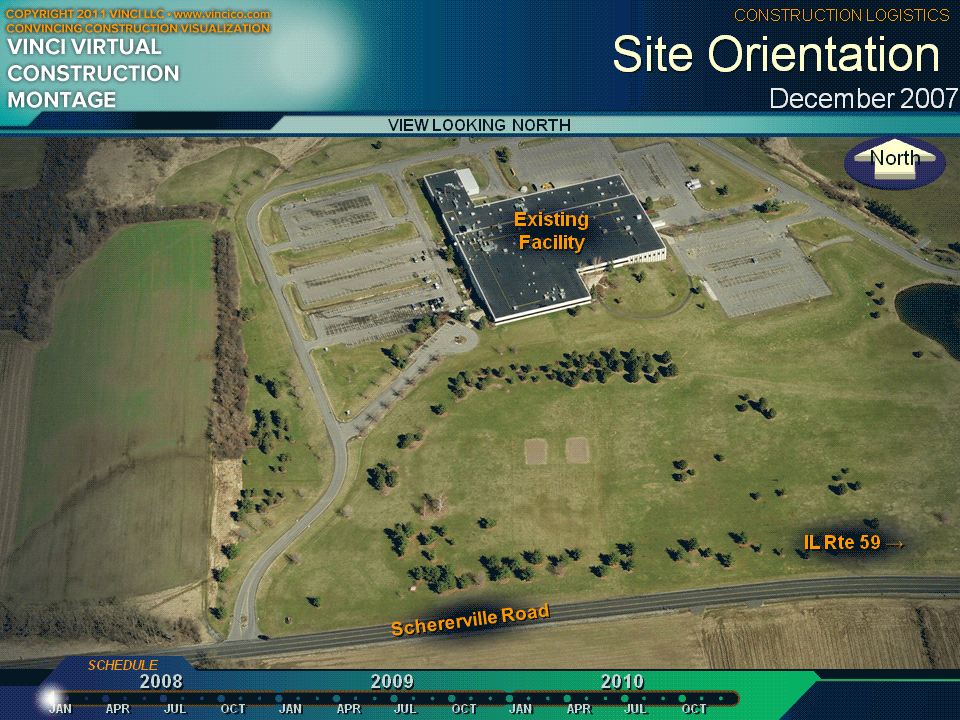 Vinci Virtual Construction Montage™ | Annotated 4d General Worksite Overview
This quick and simple virtual construction montage helped Vinci's client explain construction schedule and logistics to an industrial Owner team. The visualization was prepared in 2½ business days, a ¾-level project. The annotated 4d general overview includes the VinciMeter™, indicating project progress. A second view of the work clarifies some logistics coming in from the east. Vinci LLC can annotate its visualization in PowerPoint or Acrobat/PDF for your convenience. Vinci LLC can place annotation you specify, or can "take a stab" at it. Your team can easily amend, alter, add, or eliminate annotation as seen fit. Vinci LLC's VCM™: simple, quick, and effective construction marketing imagery!
The Vinci Virtual Construction Montage™ serves as an effective shortcut to clear, convincing, and audience-friendly construction marketing visualization. Consider Vinci's VCM™ service when your team has a solid message and most of the key construction processes are visible from a single point of view. Many of Vinci's VCM™ projects aided large victories for its clients (examples: A746A, A7519, A76B6). Vinci VCM™ is ideal for budget-conscious efforts. If your project requires three or more points of view, more than one zone with multiple phases, or is otherwise more complex, consider Vinci LLC's Digital Worksite™ service. Montages are not as easily modified, especially late in production; if you expect change during development, choose Vinci DWS™.

This page last modified Wednesday 16 November 2011.